MY FAV BIKINIS AND SWIMWEAR FOR KIDS
You could argue that I'm a bit of a closet bikini hoarder. But when it comes to my kids, the term 'hoarder' goes to a new level.
My goal with this blog post is to share with you some of my FAVORITE brands for kids swimwear, some that are super popular and some that maybe you haven't heard of. But all are extremely good quality that I know you will hold onto even when they outgrow them. These suits are THAT GOOD!
This is the most recent line of kids swimwear that I discovered on our last trip to Hawaii. I LOVE the rash guard one piece swimsuit that my girls are wearing above! The girls got SO MANY compliments whenever they wore these. It's perfect for a long day at the beach without jeopardizing style for your littles. This rash guard piece comes in a ton of different prints! Kimi and Li also offers beautiful one-piece suits and bikinis with dainty lace work and super cute straps and ties.
When you order, the sizing is not your standard toddler sizes. I got CC who is typically a 2T a size SMALL and Chacha who is a 4T a size MEDIUM. Just be sure to read the sizing description before you buy, especially if you are ordering online. Check out all her different styles HERE!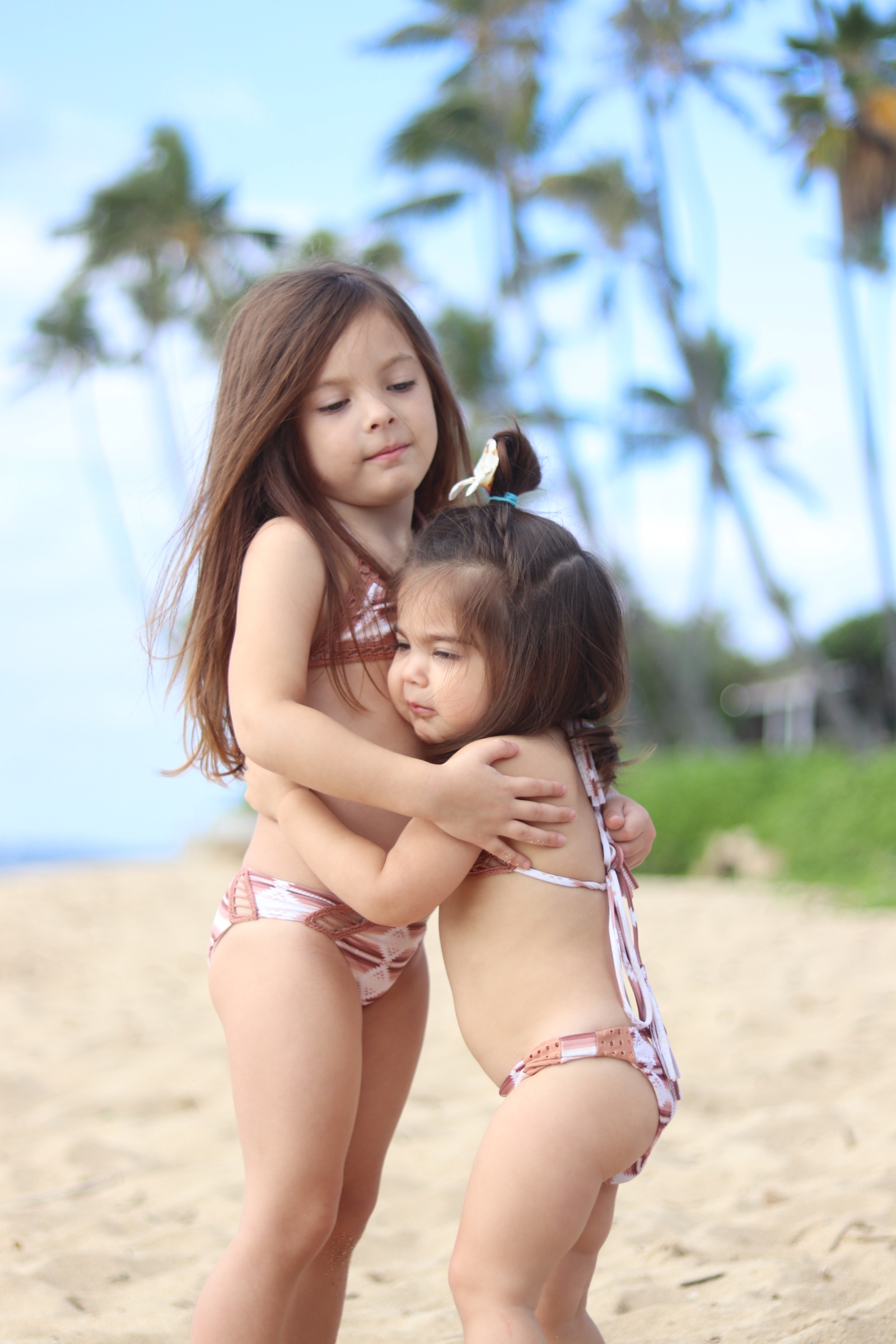 If you haven't heard of ACACIA HONEY yet, you're welcome! This brand is probably the most pricey of all the brands I love, but If you want to be *on point* matching your little, this is the brand for you. All of their bikini bottom cuts are itty-bitty; meaning it doesn't cover the full cheek, but I love that especially for the beaches in Hawaii. Check out their suits here.
It is hard to find this brand in any stores on the mainland, but at The Lucky Honey, they sell the latest styles of Acacia Honey. If you are on the island of Oahu, the stores I found Acacia on sale was in the Royal Hawaiian Shopping Center, at a store called Pink Sand. The suits you see above were 50% off! Cant beat THAT!
Mikoh swimwear is another Hawaiian brand that I love. This racerback top that Clementine is wearing above is Mikoh and it is the perfect athletic top that won't hike up to expose the chi-chi's during playtime in the water. All of their suits are ADORBS and you can find ones that match for mommy-and-me beach bikinis!
Also, if you are looking for one piece rash guards that are similar to Kimi and Li but don't want the little girl prints, Mikoh has similar ones with a more sophisticated pattern. You can also find adult bikinis that match these.
QUIKSILVER
When it comes to boys swimwear, I'm definitely still learning. I went with a Quicksilver solid gray suit the had black piping on the sides for my little man. I paired it with this Quicksilver rash guard to protect him on the beach.
OLLIE AND SQUISH
Ollie and Squish is a small business swimsuit brand that I found on Etsy. They specialize in matching rash guards and swim trunks in the most adorable prints!!! I special ordered a palm leaf set for Russell back in September, and it has grown with him. The waist band on these suits are super flexible so one size will last your babe a while.
BOYS HATS
I went a little crazy with the baseball caps for Russell because unlike the rest of my kids, he doesn't have much hair to protect his noggin' from getting sunburned. Some of my favorite hats are from George Hats and Grom Squad USA. The 'Alohs Ladies' hat Russell is wearing above is from From Squad.
SAN LORENZO
Last but not least, San Lorenzo bikinis makes the cutest and CHEAPEST swimwear for kids that you can mix and match! When I say cheap, cheaper than TARGET!!! The bottoms are $5 a piece and the tops are around $7-$8. The only downfall about finding this brand is that I have only found it in-store at the San Lorenzo store on the North Shore of Oahu. If you are in the town of Haleiwa, you must stop by the San Lorenzo store! Ask the employees to bust out their 'keiki' bin of bikinis, keiki meaning 'child' in Hawaiian. It is the best selection!